Of late, we've had a lot of customers come to us requesting Video Books. Well, we call them Video Brochures, but hey, if calling them Video Books works for potential customers, who are we to say otherwise?
We understand that people use different terminology for products, we have always known them as Video Brochures, but if Video Books is what you've come to use, then more power to you.
Looking for Video Books?
If you're using a search engine and looking for a Video Book supplier, look no further than Media Plant. We've been in this game for over nine years now, and worked with some of the brightest and the best in Video Book creation.
We've worked on hundreds and hundreds of projects, from standard Video Book sizes, like A5, A4, A6, through to custom sized books, complete with pockets, and much more besides.
Although you may call them Video Books, the basic range is a simple two-page affair. With a front cover, complete with your design/branding, and a page for the screen itself.
You can go mad with Video Books and have multiple pages if you so desire, it's been our experience (and we often recommend this) to not over complicate things when it comes to Video Books.
The wow factor is the initial opening of the book and the display of video, if you have reams of pages, the screen impact is less so. Remember, you have their attention at this point with a Video Book, don't lose their attention with too many pages.
Less is more, and when it comes to Video Brochures (sorry we meant Video Books!), we're always on hand to make the best possible recommendation, based on your budget and requirements.
We have a team of people to help you get the most out of your book project, take Joe and Josh for example, they're experts in their field and have worked with some amazing companies and achieved stunning results.
Video Boxes
You're not just limited to Video Books, if you wanted something different, you could always opt for a Video Box. Video Boxes are a more premium product, and can house a variety of promotional items.
They're a great way to showcase a company's offerings, reward employees, grab an influencer's attention and more. Video Boxes can be made to a completely custom specification, again Joe and Josh are on hand to help you get the most out of your project.
So whether you're after Video Books (Video Brochures to us!) or Video Boxes, why not give us a call on 01793 498040 and ask for Joe or Josh.
Gallery
Cue the gallery of some previous works, we hope you enjoy and look forward to hearing from you!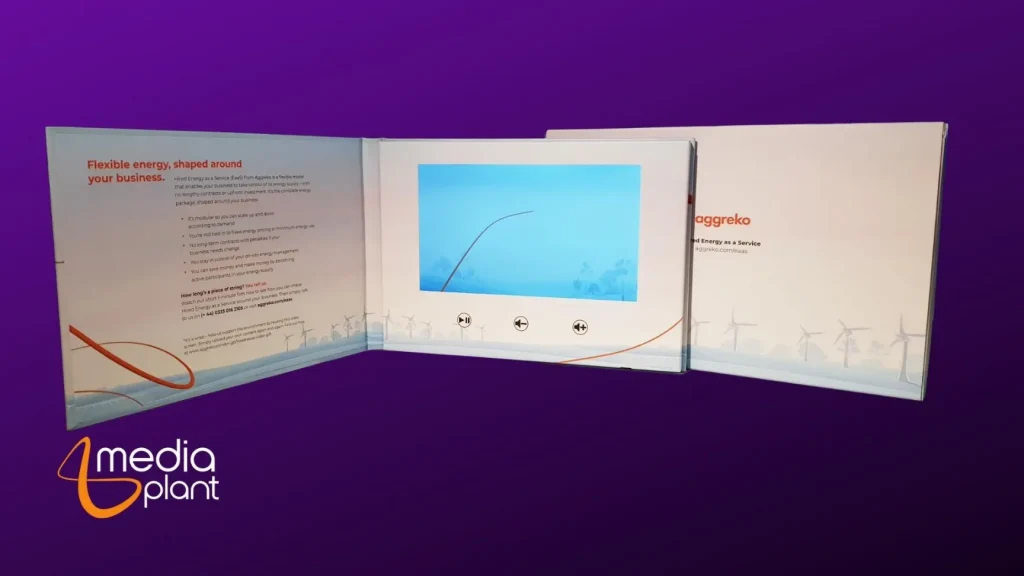 Would you like a quote on our Video Boxes?
If you're looking for a quote on Video Brochures (Video Books!), or Video Boxes, then fill in the form below, and we will be in touch to help.